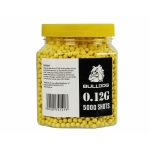 BULL DOG 0.12G 5000 TUB AIRSOFT BB GB012-5000Y
CREATE ACCOUNT OR LOGIN TO SEE PRICING
Description
These high-grade 0.12g 6mm Bulldog BBs has been designed to optimize the performance of spring operated airsoft guns, pistols, and entry level airsoft machine guns. You will be surprised just how good your entry level airsoft gun will operate with this BBs!
This ammo is calibrated and has a smooth polished surface, with no ridges or
imperfections making this product the best you can buy for your 6mm Airsoft Gun.